High5 Energy Bar 12x55g Box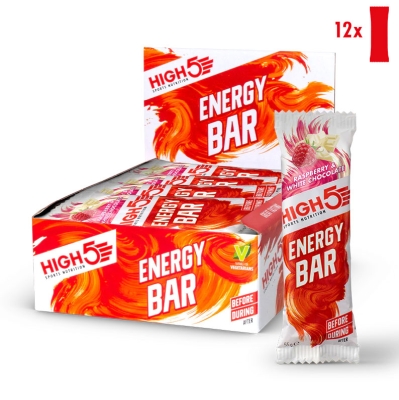 High5 Energy Bar 12x55g Box
Energy Bar is an easy to chew, great tasting bar filled with real fruits and grains to provide you with both simple and complex carbohydrates during exercise or throughout the day.
Energy Bar is a natural mix of real fruits and grains to provide a great tasting balance of simple and complex carbohydrates for your training and racing. It can also be used as a healthy snack throughout the day. It's easy to chew, not too sweet and provides one of your 5-a-day!
Features
Simple and complex carbs from oats and fruit
One of your 5-a-day
Easy to chew
Suitable for vegetarians and vegans
Energy Bar is designed to be taken BEFORE and DURING exercise or as part of an active lifestyle.
Please consider the environment and keep the countryside clean by taking your empty bar wrappers with you after use.
Batch Tested Products
As part of our Drugs Free policy, we provide products that have been batch tested. If you require products from a batch that has been tested for substances on the WADA Prohibited List, then please select the "Batch Tested" option in the flavours menu. This will be shipped with a certificate from our accredited lab. Please note that we do not use banned ingredients and have never had a failed test.
Manufacturer's Code: HI5EBPT-BOX, 16-003-BOX, HI5EBCR-BOX
Barcodes: 5027492006230, 5027492006575, 5027492006551