Compressport ArmForce Ultralight Compression Arm Sleeves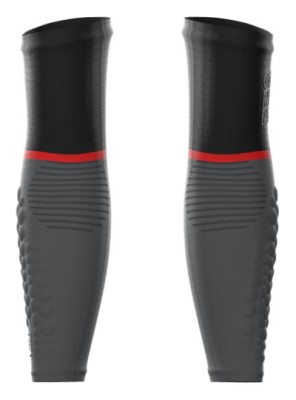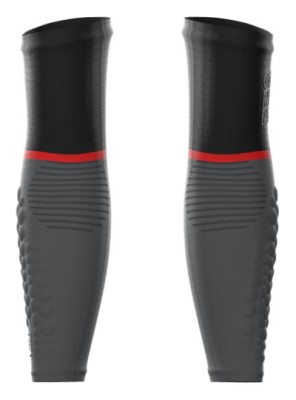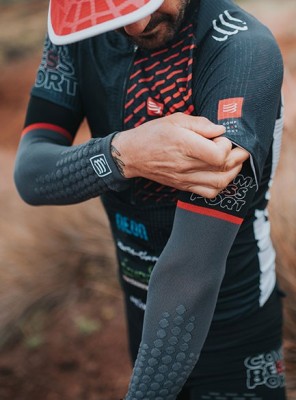 Compressport ArmForce Ultralight Compression Arm Sleeves
Black/Red - XL
In Stock
2-3 Days Delivery Time
$34.52
The Armforce Ultralight multisport sleeves are ideal for running, on trails, while biking or doing VTT. As a complete anti-UV apparel, it can be worn as everyday wear.
Thanks to a new generation of compression tubes, the Armforce Ultralight targets compression on strategic arm muscles to the millimetre. Blood flow is stimulated, enabling the muscles to get even more oxygen and thus, get guarded against injury and cramps. Moreover, direct fibre-integrated ventilation bands improve comfort and keep arms fresh.
Aero Knitting: Optimum inside and out heat exchange with optimised perspiration evacuation.
Hydrophobic: The water-repellent fibre wicks moisture away and evacuates sweat without absorbing it, even when excessive. No more uncomfortable, heavy, damp clothing that irritates and does not dry.
Massaging Fiber: Every movement triggers a micromassage, providing well-being and lightness. Patented fiber.
Morpho-fit: 100% seamless, the fabric is knitted to fit every curve and muscles perfectly, maximising their efficiency and comfort (no chafing).
Seamless: For optimum comfort, the microfibre is 100% seamless, lightweight and very soft.
Shock Absorber: The 360° compression dampens the "shock wave" effect on the muscles, veins and joints.
Thermo-regulation: Its unique weaving favors the circulation of air and allows a perfect balance between the outside and the interior. Thus, the body remains at the same temperature without rising or falling suddenly. A real protection in winter against cold and during the hot temperatures...
Ultra-resist: In normal use, COMPRESSPORT® is tear proof.
Ultralight: Your COMPRESSPORT® do not retain water and will remain featherlight in all conditions.
Compression Oxygen: A milimetre-precision compression graduation in the targeted areas brings oxygen to the muscles and therefore enhances performances and facilitates recovery. The muscles are supported for a feeling of strengh and a better performance on a longer distance. Ultra-extensible, the fiber is also more breathable for a maximum comfort.
Integrated Ventilation Zones: Innovative technology, the ventilation stripes directly integrated into the compression provide optimal ventilation, evacuating heat and perspiration.
BIOCERAMIC: This "mirror effect" activates micro-circulation on the surface of the skin (+92%) and leads to secondary benefits such as better thermoregulation by +51%, performance and strength enhancement, increased speed on same O2 consumption (70-90% of VO2 peak) and tendency to lower O2 consumption.
COMPRESSION AND EFFICIENCY
Thanks to the latest generation compression tubes, these arm sleeves compress precisely like no other.
Strategic muscles, well upheld, get oxygenated easily and efficiently.
Arms are guarded against cramps and aches.
Post-effort, recovery is greatly eased.
MAXIMUM THERMOREGULATION
Bioceramic crystals integrated in the fibre facilitate optimal body thermoregulation during extreme effort.
Blood microcirculation is stimulated on the surface of the skin, which enables further thermoregulation.
As a genuine second skin, it protects arms from cold and are effective as anti-UV.
LIGHTNESS AND ERGONOMY
Extra-soft fibres make these sleeves the softest of all!
They allow free movements.
The elbow area is extremely flexible, avoiding any discomfort.
Ergonomic, these ultralight sleeves stay in place till the end.
Machine Wash at 30°C
Do Not Bleach
Do Not Iron
Do Not Dry Clean
Do Not Tumble Dry
CARE INSTRUCTIONS
Size Chart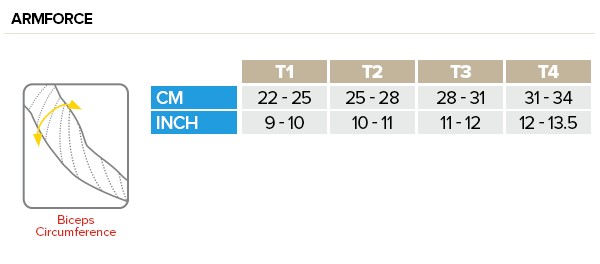 Manufacturer's Code: CS-675215, CS-675239, CS-675246, CS-675222