Namedsport Hydrafit 400g With Bottle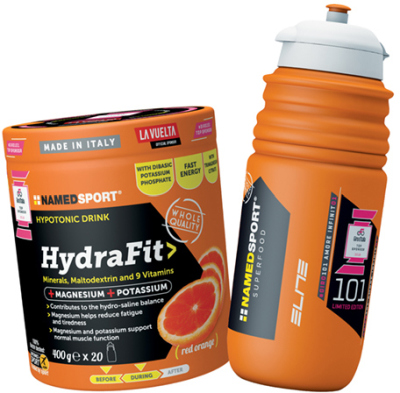 Namedsport Hydrafit 400g With Bottle
Orange
$9.55
Add to Cart
shopping_cart

HydraFit is an exclusive blend of mineral salts, maltodextrin and vitamins that has been specially created into a hypotonic electrolyte drink. (Osmolarity 190 mOsm/l).
Replacement of mineral salts lost by the body as a result of high perspiration during exercise. Magnesium and potassium both help to alleviate weariness.
HydraFit is the ideal solution for replacing the mineral salts lost by the body due to excessive sweating during intense exercise. Magnesium and potassium proper muscle functions and reduce the effects of fatigue.
Benefits:
Replaces lost mineral salts
Helps reduce fatigue and tiredness
Increases energy and muscular efficiency
Helps prevent cramps and muscular pain
Nutritional Informations:
per 100 g
Energy: 1312 kJ/309 kcal
Fat: 0 g?
of which saturates: 0 g
Carbohydrate: 77 g
of which sugar: 53 g
Fibre: 0 g?
Protein: 0 g
Salt: 3,0 g
Ingredients:
Dextrose, maltodextrin 25%, acidity regulator: citric acid; Trisodium citrate, aroma: red orange; beet juice powder, trimagnesium citrate 1.56%, dibasic calcium phosphate, sodium chloride, dibasic potassium phosphate 1.08%, anti-caking agent: silicon dioxide; vitamin C (L-ascorbic acid), sweetener: sucralose; niacin (nicotinamide); pantothenic acid (calcium D- pantothenate), vitamin B6 (pyridoxine hydrochloride), vitamin B2 (riboflavin), vitamin B1 (thiamine hydrochloride), folic acid (pteroyl-monoglutamic acid), biotin, vitamin B12 (cyanocobalamin).
Acesulfame Free
Aspartame Free
Lactose Free
With Minerals
With Vitamins
Gluten Free
Additional Informations:
Warning: food supplements are not intended as a substitute for a varied and balanced diet and a healthy lifestyle. Do not exceed the daily intake of 60g (3 servings). Keep out of each of young children.
Storage conditions: store in a cool, dry place. The best before date applies to the product if stored correctly in sealed packaging. Dispose in an environmental friendly way after use.
Manufacturer's Code: NAMPALBOX