AbsoluteBlack MTB Round Chainring 64 BCD 30T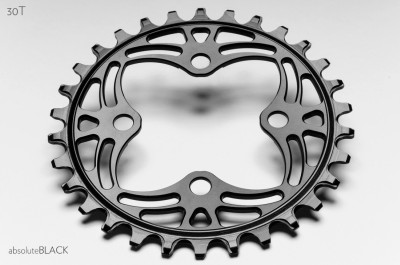 AbsoluteBlack MTB Round Chainring 64 BCD 30T
Black - 30T
In Stock
2-3 Days Delivery Time
$61.03
Round chainring designed for Shimano and other 64 cranks. 9/ 10 / 11/ 12 speed and Eagle Compatible
If you have ever thought about running 1x9/10/11/12 speed and wondered how to solve chain retention, this is an answer. Its specially designed wide-narrow tooth profile keeps the chain really snug, allowing you to leave your chainkeeper in the garage. Always use a new chain with a new chainring.
The most advanced, Patent Pending narrow/wide tooth profile on the Market guarantee minimum 12 months of excellent chain retention capabilities! We mean it. You can finally take your chainkeeper off of the bike. Tested by XC Silver World Champion Marek Konwa. Used by World Champion - Maja Wloszczowska!
Specifications:
Size (Mass +/-1g): 30T (44g)
Color: Black
Compatibility: All cranks with 4 x 64BCD interface.
Material: CNC machined 7075 Txxx Aluminum. Long-lasting construction
Finish: type II anodizing
Mounting holes: 4 x 64 mm BCD
Chain Options: 10 / 11 / 12spd chain for geared bike or 6-8 spd for SS. If used in 1x9 drivetrain - 10spd chain must be used to obtain the performance. 
Manufacturer's Code: SH30BK