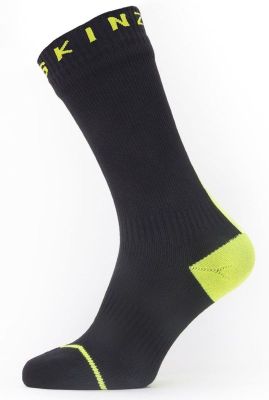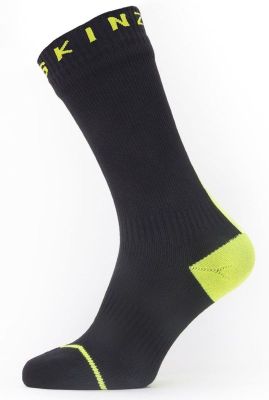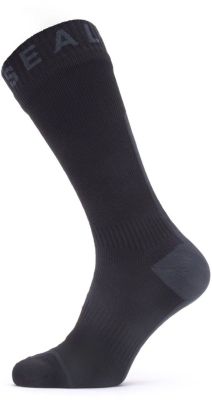 Black/Yellow - S
In Stock
2-3 Days Delivery Time
$46.84
Black/Yellow - M
In Stock
2-3 Days Delivery Time
$46.84
Black/Yellow - L
$46.84
Add to Cart
shopping_cart
Black/Yellow - XL
In Stock
2-3 Days Delivery Time
$46.84
Black/Grey - S
In Stock
2-3 Days Delivery Time
$46.84
Black/Grey - M
$46.84
Add to Cart
shopping_cart
Black/Grey - L
In Stock
2-3 Days Delivery Time
$46.84
Black/Grey - XL
In Stock
2-3 Days Delivery Time
$46.84
The original, 100% waterproof, windproof & breathable mid length sock featuring Hydrostop. Perfect for use in a wide variety of weather conditions.
Key Benefits:
Waterproof - three layer construction for warmth, durability and waterproofing
Comfort - Merino wool lining for moisture control, insulation and comfort
Hydrostop - Reduces water ingress
Support - zonal elastication for added support
Comfort - flat toe seams prevent rubbing
Merino Wool
Finer than traditional wool with tiny overlapping scales that case each fibre, these scales are hydrophobic (water repellent). Inside it's a different story, the fibre core is hydrophilic (highly absorbant). Merino is therefore a wicking fibre and can absorb and release 10 times more moisture than synthetics. Each fibre can absorb up to one third of its own weight in moisture without feeling clammy or wet to the touch. In our socks and gloves, the moisture is then wicked through the membrane to keep you feeling warm and dry
Hydrostop Usage Guide
SealSkinz Hydrostop technology creates a seal between the sock cuff and skin, helping to reduce the amount of water from running down the leg and into the sock. Due to this close bond between sock cuff and skin, we recommend that Hydrostop socks are only used outdoors and not for a prolonged period of time. Incorrect or prolonged use can result in excessive rubbing against the skin and may in a very small minority of cases cause minor skin irritation. The Hydrostop seal material has been fully tested to EN ISO 10993-5: 2009 and is OEKOTEX compliant.
Materials
OUTER: 90% Nylon, 10% Elastane
Membrane: Hydrophilic membrane
OUTER: 90% Nylon, 10% Elastane
INNER: 36% Merino Wool, 36% Acrylic, 18% Polyester, 5% Elastane, 4% Nylon, 1%TPU
Size Chart
S: 36 - 38
M: 39 - 42
L: 43 - 46
XL: 47 - 49
Manufacturer's Code: 11100063007110, 11100063007120, 11100063007130, 11100063010110, 11100063010120, 11100063010140, 11100063007140, 11100063010130
Barcodes: 5055754425376, 5055754425383, 5055754425390, 5055754425413, 5055754425420, 5055754425444, 5055754425406, 5055754425437