Continental Grand Sport Extra Folding Road Tyre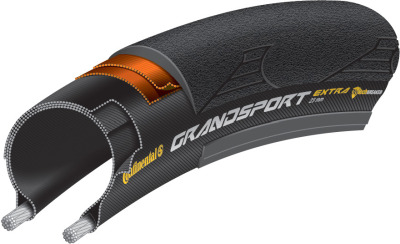 Continental Grand Sport Extra Folding Road Tyre
Price:
RRP: $45.10
Save: 10%

The right choice for all those who eat up the miles, for commuters and gravel kings..
Proven racing tire contour for responsive handling and secure grip.
Features
The Grand Sport family is based on a solid 60 TPI casing, a NyTech breaker and a durable and super grippy PureGrip tread compound
We have designed each tyre for a particular use
The Grand Sport Extra offer pure puncture protection
The doubled up NyTech breaker and three layer sidewall make it a reliable work horse, ideal for heavy training and tough racing conditions
The Grand Sport Race is designed as a balanced, all round tyre
The Nytech breaker and sufficient PureGrip compound in the tread give confidence for effortless and countless racing and training kilometers
The Grand Sport Light, in contrast, has been designed as a competitive tyre, the reduced PureGrip compound saves weight, but at the cost of longevity
A good level of puncture protection is provided by the Nytech breaker
Weight: 280 grams
Technology
PureGrip Compound
Based on activated silica compounds, this technology was originally intended as an performance level compound, but after intensive development at our Korbach Research and Development Department Facility, an advanced new compound with outstanding grip and cross-country properties was developed. This new rubber mix, given the self explanatory name "PureGrip", is ranked just behind our BlackChili Compound and is being used in our performance products both in the road and mountain bike sectors. Whilst providing great grip, it is also long lasting and highly durable – both characteristics of Continental tires, which are exclusively manufactured in the factory in Hefei (Asia).
Manufacturer's Code: TYC50021, TYC50024