Cateye AMPP 400 w/ ORB Rechargeable Lights Set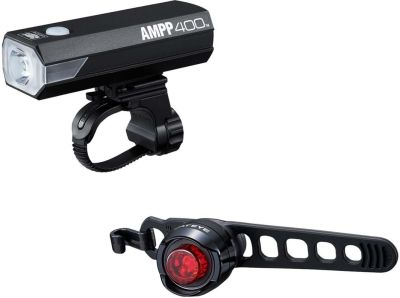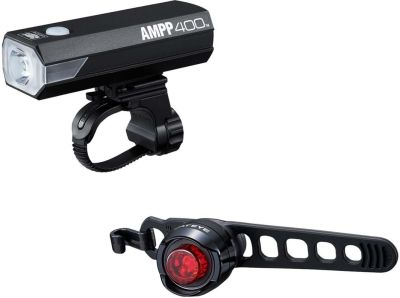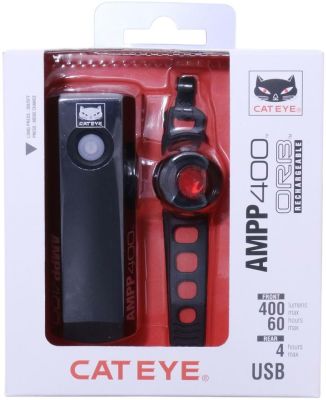 Cateye AMPP 400 w/ ORB Rechargeable Lights Set
In Stock
2-3 Days Delivery Time
$58.77
Cateyes best value rechargeable light sets, paring the best-selling AMPP 400 front light and the small, but perfectly formed Orb Rechargeable rear light.
The AMPP400 is perfect for urban riding, the compact, lightweight Cateye AMPP 400 offers impressive functionality and visibility. This set comes the small, but powerful Orb RC rear light. Simple functions and easy to fit, the set is perfect for commuting or daytime riding.
Features
OptiCube™: Our proprietary OptiCube™ lens technology maximizes brightness for greater visibility.
Side Visibility: Provides visibility from the side to increase safety.
FlexTight™ (AMPP 400): The innovative and versatile Flextight™ bracket can quickly and securely fastened to virtually any handlebar or stem with no tools required
Low Battery Indicator: Alerts when the remaining battery gets low
USB Rechargeable: USB rechargeable lights recharge the batteries from USB port
Daytime: Can be used in the daytime.
All Weather: Can be used in rainy weather.
AMPP 400
400 Lumen maximum output
Opticube lens technology for supreme light distribution
Robust matt polycarbonate body with enhanced scratch resistance
FlexTight bracket – suitable for bars up to 35mm diameter and selected aero bars
2x greater Lumen output on Low mode compared to Volt 400XC, for increased versatility
220% larger side lens for a significantly wider beam and enhanced side visibility
Power button illumination and red indicator @ 20% battery capacity
Redesigned underside connection for easier removal from the FlexTight bracket
Double click to High mode, Single click returns to previous mode
Light Mode Memory
Recharge time: 4hrs ( 1A ) – 8hrs ( 0.5A )
Battery: Li-Ion 3.6v 2200mAh
Waterproof rating: IPX4
Weight: 95g
ORB RECHARGABLE
Rechargeable version of the popular ORB SL-LD160 model
Easy switch operation - Lens acts as power & mode button
Excellent side visibility
Durable and elegant polished black aluminium body
Versatile heavy-duty rubber strap mount - Attaches to seatpost, helmet or bag
Weight: 25 g
Specifications
AMPP 400
High: 400 Lm, 2hrs
Low: 200 Lm, 4 hrs ( 2x greater output than Volt 400XC in same mode, 100 Lm )
Daytime HyperConstant: 200 + 400 Lm, 6hrs
Flashing: 200 Lm, 60hrs
ORB Rechargeable
Constant: 7 Lm, 1.5hrs
Fast Flashing: 7 Lm, 3.5hrs
Slow Flashing: 7 Lm,  4hrs
Manufacturer's Code: CA490A400ORBRC