Selle San Marco Aspide Short Open-fit Dynamic Saddle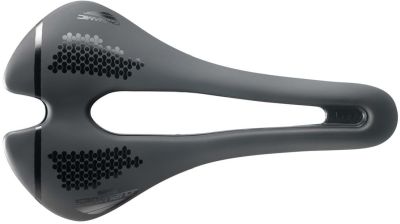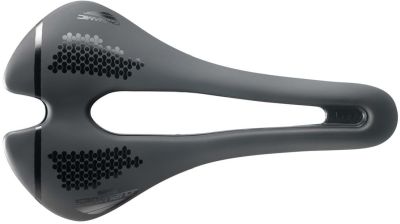 Selle San Marco Aspide Short Open-fit Dynamic Saddle
Sold-Out
Why don't you browse other
Saddles
in stock.
The new Aspide short resumes the essential shape and the unmistakable design, which has always characterized the Aspide range but shortens its length (250mm) to make it even more comfortable. Its shape, combined with the large central cut-out (Open-Fit), guarantees maximum comfort and adequate support of the ischiatic bones in different pedaling situations.
Since 2002 the Aspide has been the top model of the entire Selle San Marco collection. A product that in almost 20 years of history, has managed to support many cyclists to victory in World Tour Events, thanks to its perfect combination of comfort and lightness. Today, the Aspide takes one more step. It also becomes "Short" to increase even more comfort and guarantee the pleasure of pedaling.
The Aside Shorts Wide Open-Fit design and its clean, minimalist lines guarantee perfect comfort and even greater lightness. The slim front guarantees excellent leg freedom whilst pedaling. Whilst the rear support helps maintain the riding position. Aspide is particularly suited to road use, yet also offers excellent performance on other types of terrain.
The new Aspide Short, with a total length of 250mm is now available in 2 modern fit sizes and 4 models the new Aspide Short-range has you covered whatever your performance demands or budget needs are.
Features
MANGANESE RAILS
This material increases the characteristics of the frame by improving its resistance to wear caused by shocks. This type of rail is used on our Dynamic level saddles.
CARBON FIBRE REINFORCED SHELL
Nylon with high properties, enriched with a high proportion of long carbon fiber, in order to reinforce the characteristics of rigidity, stiffness, and durability without compromising the weight.
VACUUM PADDING / PULLFOAM
Low-density foam with variable thickness structure that follows the movements of the pelvis when pedaling, for guaranteed comfort, long-lasting resistance, and ideal support.
SILK FEEL COVER
Silk-soft-touch surface finish, bi-elastic strut material, waterproof and with good
abrasive resistance. Easy to wash & clean.
NEW ERGONOMY
The perfect balance between the support and relief zone. The "big hole" helps maintain comfort under pressure and offers day-long support and comfort. The central relief zone is long enough to work in all riding positions.
Specifications
Rail: Manganese / Matt Black
Shell: Carbon Fibre Reinforced
Padding: Vacuum
Cover: Silk feel
Saddle Profile: Open / Waved
Size Narrow: 250 x 139mm / ID-Match Ref: S3
Size Wide: 250 x 155mm / ID-Match Ref: L3
Weight: 215g / 220g
Use: Road / Off-Road
Colours: Black/Black
Manufacturer's Code: SMS911MN401, SMS911MW401