Cateye AMPP100 & VIZ100 Lights Set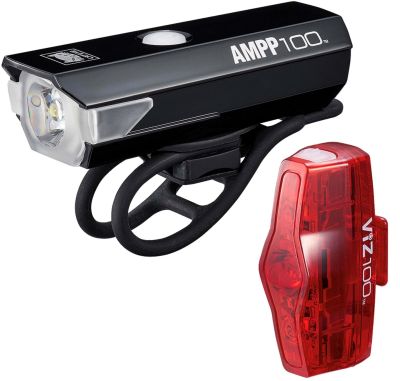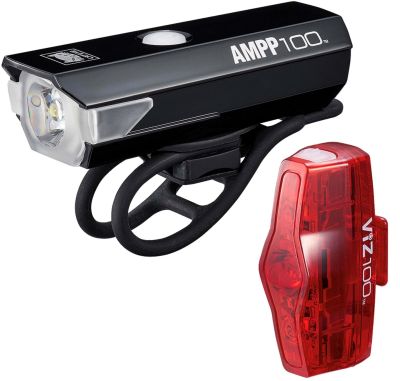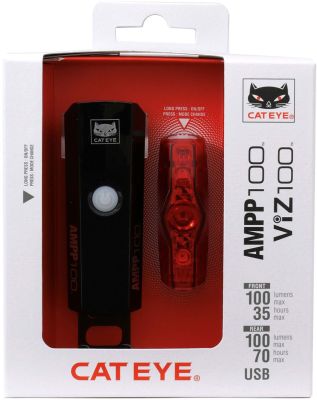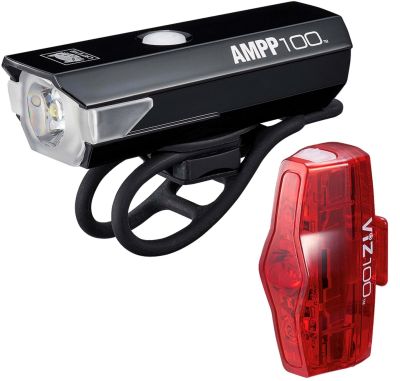 Cateye AMPP100 & VIZ100 Lights Set
In Stock
2-3 Days Delivery Time
€45.99
Amazing value all in one 100 lumen front & rear light set package.
Features
AMPP100
Compact rechargeable headlight (100 lm)
Up to 35 hours runtime
Features - Easy to attach and remove, new & improved rubber band mount with
360° rotation
Excellent side visibility
Low battery indicator
Lithium-Ion USB rechargeable battery (Micro-USB cable included)
Mode memory function
Two light modes (Constant / Flashing)
Weight: Only 62g
Designed in Japan.
Runtime:
Constant (100 lumens):3.5 hrs
Flashing (100 lumens):35 hrs
Charging time (From empty) : 2.5 hrs
ViZ100:
3 LEDs (100 lumens)
Focused lens for maximum visibility
Highly visible during daytime
Superior 300 degree visibility
Long rear beam projection
OptiCube™ lens technology
Lithium-ion rechargeable battery
USB rechargeable (Micro-USB cable included)
Low battery indicator
4 modes: Constant / Flashing / Group Ride / Daytime Hyperflash
Mode memory function
Battery Auto Save (The mode automatically changes to flashing when the battery power gets low.)
New seat post bracket SP-15 which also fits contemporary (Kammtail) aero seat post.
Snap System™ bracket.
Designed in Japan.
Runtime:
Constant (15 lumens):5 hrs
Flashing (10 lumens):70 hrs
Group Ride (35 lumens):11 hrs
Daytime Hyperflash (100 lumens):15 hrs
Charging time (From empty) : 3 hrs
Techonlogy
Opticube™: Our proprietary OptiCube™ lens technology maximizes brightness for greater visibility.
Side Visibility: Provides visibility from the side to increase safety.
Snap System™ (ViZ 100): Allows riders to place rear lights on various locations in both horizontal and vertical orientations.
Low Battery Indicator: Alerts when remaining battery gets low.
Daytime: Can be used in the daytime.
All Weather IPX4: Can be used in rainy weather.
USB Rechargeable: USB rechargeable products recharge the battery from any USB port.
360° Adjustable (AMPP 100): Light turns 360° for a multitude of lighting positions.
Manufacturer's Code: CA490A100V100