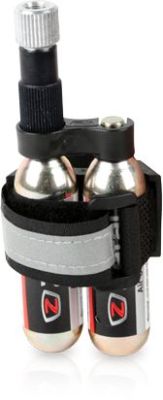 In Stock
2-3 Days Delivery Time
$21.34
Made of 2 cartridges, a CO2 Holder and an EZ Control, the Zéfal CO2 Inflator Kit is made for quick repair and easy carrying. The EZ control system is easy to use and gives an accurate inflation  with regulation system. The CO2 Holder has a rubber part to ensure a good grip and it works with all diameters.
Features
Z-Flow system: Flow-controlled by adjusting the black piece. Allows a progressive and accurate inflation.
Universal: Compatible with Schrader and Presta valves.
Compact and light: Only 20 g.
Specifications
Weight: EZ Control: 21 g (without cartridge) / CO2 Holder: 15 g
Material: EZ Control: aluminium / CO2 Holder: rubber
Mounting: Universal system on seat post or frame
Length: 46 mm / 1.8''
Connection: Presta / Schrader
Type of cartridges: 11 g, 16 g et 25 g threaded
Manufacturer's Code: 4161