SIS Protein20 Protein Bar 12x64 box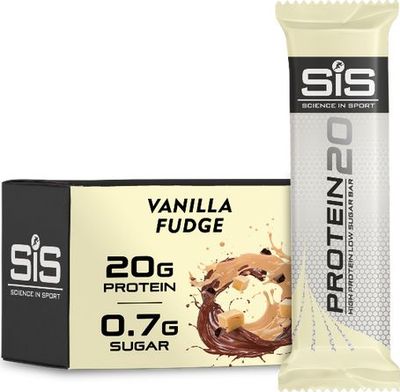 SIS Protein20 Protein Bar 12x64 box
Vanilla/Fudge
€39.00
Add to Cart
shopping_cart
With great tasting new flavours and an improved recipe, our Science in Sport PROTEIN20 bar is a convenient on-the-go option made with a high-quality plant protein blend for athletes looking for an alternative high-protein snack option that's low in sugar.
There are thousands of proteins in our bodies that perform a variety of daily functions to promote health, well-being and performance. We must consume adequate protein in our diet so that we have the relevant building blocks to make the new proteins required for our body to function.
As an athlete, after-exercise protein intake, whether it's weight training or endurance-based, is important for building new proteins because repeated muscle damage and protein-feeding results in muscle growth. In relation to endurance performance, the stress of endurance exercise creates a signal to instruct our muscles to make new proteins involved in aerobic energy production.
20 grams of protein (soya protein isolate, pea protein isolate, pumpkin seed protein)
18 grams of carbohydrate
265kcals per 64g serving
0.7g of sugar per bar
Ingredients
Protein Blend [Soya Protein Isolate, Pea Protein Isolate, Pumpkin Seed Protein], Milk Alternative Chocolate Coating [Cocoa Butter, Soya Flour, Xylitol, Cocoa Mass, Emulsifier (Sunflower Lecithin, Natural Vanilla Flavouring), Sweetener (Maltitol)], SoyaProtein Nuggets SoyaProtein Isolate, Tapioca Starch, Malt Extract Gluten, Salt), Caramel Layer [Sweetener (Maltitol), Humectant (Vegetable Glycerine), Coconut Oil, Water, Emulsifier (Sunflower Lecithin), Thickener (Gum Acacia), Acidifying Agent (Citric Acid), Himalayan Salt] , Peanut,Paste, Humectant (Vegetable Glycerine), Coconut Oil, Emulsifier (Sunflower Lecithin), Natural Flavouring, Green Tea Extract, Himalayan Salt, Sweetener (Steviol Glycosides) 25% milk alternative chocolate covering.
Manufacturer's Code: FS131372