ODI AG-1 Aaron Gwin Lock-on Grips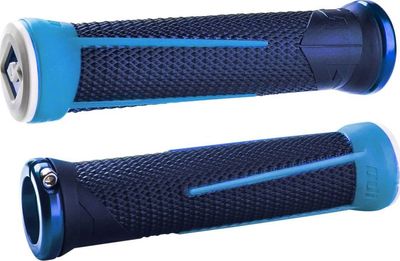 ODI AG-1 Aaron Gwin Lock-on Grips
Price:
RRP: $37.75
Save: 9%
Blue
In Stock
2-3 Days Delivery Time
$34.51
ODI has a long and established racing heritage. Our first generation Lock-On System was born out of the need to quickly fasten grips for downhill racing and quickly became the standard for racers everywhere. We are pushing the bar even further and have partnered up with 2-time UCI World Cup Downhill Champion Aaron Gwin to develop the next evolution in race-inspired grips. The new AG-1 grips were redesigned from the ground up with racing specific features.
When we partnered with Aaron Gwin to develop a grip, we set out to make the most technically advanced DH grip ever made. We started from the ground up with an entirely new single-clamp locking system which offers over 10mm of extra grip space and allows for a more ergonomic feel on the either end of the grip. We topped this off with multiple layers of gripping surface utilizing a unique rib pattern that provides positive traction without making the grip feel larger. To ensure that the grip would stand up to the abuse of world class DH courses, we added alloy reinforced ends which combines the strength of aluminum with the forgiveness of a plastic end. We packed all of this into an ultra slim grip for optimal feedback and split second decision making. The result of all this hard work is the AG1 Lock-0n Grips: the best DH grips ever made.
Features
Aluminum reinforced ends - provide extra durability against grip blowout
Angled rib pattern - slightly harder compound designed to match articulation points of your hands for added control
New single clamp - version 2.1 lock-on system (clamps are not replaceable).
Hard plastic end - molded over the aluminium endcap, the end provides durability but will not gouge.
New multi-layer grip pattern - soft compound with dual knurl pattern for improved control in all conditions.
Ergonomic design - provides more comfort for those who ride on the inside or outside of the grip.
Increased bolt size to 3mm allen to help prevent stripping and increase strength. (torque tested up to 70 in-lb (8nm).
Manufacturer's Code: HGODAGBB