Crankbrothers Mallet E Clipless MTB Pedals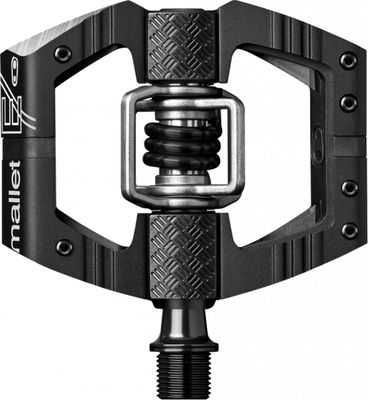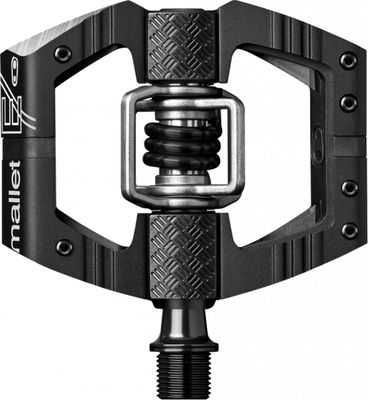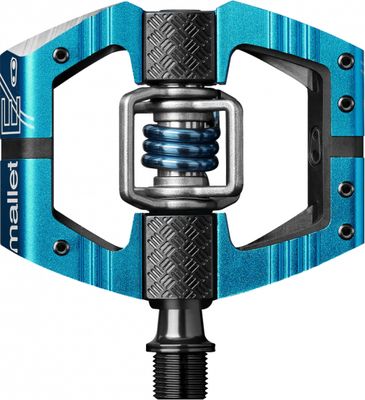 Crankbrothers Mallet E Clipless MTB Pedals
Black
€219.99
Add to Cart
shopping_cart
Blue
External Warehouse
5 Days Delivery Time
€219.99
The ultimate pedal for enduro racing and riding. The mallet E was developed with the help some well known enduro athletes.  12% smaller than the Mallet DH pedals but with many of its well loved features.
There are 2 different axle lengths available 52mm or 57mm (the 57mm pedal is only available in a half black/half blue colour option).  The 52mm will provide an engagement point and Q factor similar to other brands of pedals.  If you have been previously using the Mallet DH pedal you may benefit from using the longer axle version.  Riders who prefer a wider Q factor / have less crankarm / pedal clearance may also benefit from the longer axle pedals.
Features
Concave pedal platform for secure foothold.  Like it's DH equivalent you get that flat pedal feel whilst running clipless.
49g lighter and 12% smaller pedal body than the crankbrothers Mallet DH pedal with a 52mm Q-Factor compared to 57mm on the DH equivalent.
Ribbed body allows for better traction when unclipped
Chamfered edges for reduction in rock strikes
Excellent mud-shedding: the design is very open.
4-sided entry: clip in on all 4 sides of the pedal, by pushing forward or pulling backwards on the pedal.
Increased float: 6° of side-to-side rotational play.  The float of the pedal allows for the rider to shift positions on the bike, while keeping their feet clipped into the pedal.  This allows for improved rider control and bike handling.
Fit adjustment: crankbrothers premium cleats can be adjusted for either 15° or 20° release angle.  Zero-float cleats can be purchased separately (link to these).
Customise the fit between your shoe/pedal interface by using integrated traction pads.  The pedals come with the 1mm tread pads fitted and include set of 2mm pads in the box.
Outer enduro cartridge bearing is designed specifically for pedals.  Enduro use superior materials, grease and sealing on their bearings which are designed especially for use on a bike.
Inner igus LL-glide bearing has been exclusively formulated for crankbrothers.  It performs in even the most adverse conditions out on the trails. 
Double seal system combines a double lip internal seal and a new external seal to keep water and debris from entering the pedal.
Specifications
Weight (per pair): 419g
Spindle: Forged scm 435 chromoly steel
Body: 6061-T6 aluminium
Wings: 17-4PH stainless
Spring: 300 series stainless steel
Inner bearing: Igus LL-glide bearing
Outer bearing: Enduro cartridge bearing
Pins: 12 pins per pedal
Cleats: Premium brass cleats included
Release angle: 15° or 20°
Warranty: 5 years
Additional Information
Crankbrothers pedals are fully re-buildable for simple maintenance. There is a consistency in parts across all pedal models, which allows for ease of servicing, this is easily done using the pedal refresh kit (CRB-16051).
Manufacturer's Code: CRB-15990, CRB-15991