Crankbrothers Eggbeater 11 Clipless MTB Pedals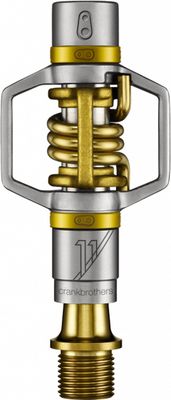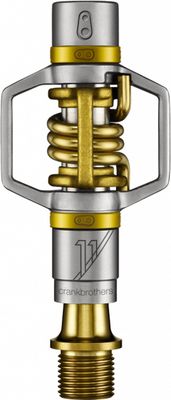 Crankbrothers Eggbeater 11 Clipless MTB Pedals
Gold
External Warehouse
5 Days Delivery Time
€599.99
The crankbrothers eggbeater is an iconic pedal designed by Carl and Frank, the original founders of crankbrothers, they were tired of getting stuck in mud-covered pedals with no way in or out.  They realised that existing pedals were too complicated….It started with a simple question: what is the best way to attach a shoe to a crank?  To answer this question, Carl and Frank created a system with only two moving parts hinging on a spring.  This system became known as the eggbeater pedal, and later it was adapted into the candy pedal. 
The eggbeater's simple design gives the advantage of amazing mud shedding and 4 points of entry making it perfect for XC, trail riding and cyclo cross.  The level 11 pedals are the top of the range of the eggbeater family with a titanium axle and pedal body, they're lightweight, function well and look amazing on your bike. 
Features
Excellent mud-shedding: the design is very open.
Ribbed body for extra traction when unclipped
4-sided entry: clip in on all 4 sides of the pedal, by pushing forward or pulling backwards on the pedal.
Extremely lightweight: pedal design is very simple with only a few key parts.
Increased float: 6° of side-to-side rotational play.  The float of the pedal allows for the rider to shift positions on the bike, while keeping their feet clipped into the pedal.  This allows for improved rider control and bike handling.
Fit adjustment: crankbrothers premium cleats can be adjusted for either 15° or 20° release angle.  Zero-float cleats can be purchased separately.
Outer enduro cartridge bearing is designed specifically for pedals.  Enduro use superior materials, grease and sealing on their bearings which are designed especially for use on a bike.
Inner igus LL-glide bearing has been exclusively formulated for crankbrothers.  It performs in even the most adverse conditions out on the trails. 
Double seal system combines a double lip internal seal and a new external seal to keep water and debris from entering the pedal.
Additional Information
You can customise the fit and feel of your pedal using crankbrothers tread contact sleeves (CRB-13282).  They come with 3 different thicknesses enabling the rider to ensure good contact between their shoes and the pedal axle (as the tread wears down the contact can move away from the axle and onto the wings of the pedal).
You may also like to run the pedals on your road / commuter bike.  Buy a set of Quattro cleats (CRB-15289) to use on your road shoes.  It makes pulling off from junctions a breeze as you have 4 points of entry to the pedals.
As with the rest of the crankbrothers range the pedals are fully serviceable.  Servicing is simple and does not require any specialist tools, just a flat head screwdriver, socket wrench and 8mm allen key to hold the pedal by the axle.
Crankbrothers pedals are fully re-buildable for simple maintenance. There is a consistency in parts across all pedal models, which allows for ease of servicing, this is easily done using the pedal refresh kit (CRB-16051).
Manufacturer's Code: CRB-11495