NoTubes 'Pint' / 473ml Tyre Sealant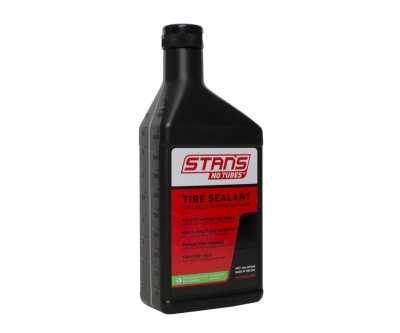 NoTubes 'Pint' / 473ml Tyre Sealant
In Stock
2-3 Days Delivery Time
$26.25
Will stop slow leaks and punctures. This Solution converts standard (non tubeless) tires to tubeless. Also works with any tubeless tire or tubular tires. When properly used, it will seal up to 1/4 inch punctures. The Solution can be used year round, even in sub freezing temperatures. It will not throw the tire out of balance like other sealants are known to do.
1 bottle seals 8 bicycle tires
Watch the movie to see how the system works
-
Click here
Features and Benefits of Stan's Tubeless System
Stan's Tubeless System offers two sealing points on the tire versus other tubeless systems which use only the bead lock as their sealing point. First the bead lock is sealed, as well as the lower portion of the tire and rim to create a second inner seal. This unique design allows you to break the bead lock seal without losing air pressure. Secondly, the inner seal flexes inwards with the tire to maintain air pressure
The patented Rim Strip makes installation simple. It can be removed as easily as a tube and can be used over and over again. Time involved can be less than 10 minutes per wheel. With this system you can lose rotating weight in an area that previously was not possible
Your lightweight wheel set can be converted to a tubeless set up with only 56 grams of added weight per wheel. Saving hundreds of euros over purchasing new wheels
No need to worry about the dreaded pinch flat
Possibly never having another puncture flat again because of the self-sealing qualities of Stan's Tire and Rim Sealant
You will be able to keep using your lightweight tires and not be limited to buying expensive and much heavier tubeless specific tires
The New Molded Rim Strip features a new Presta valve stem with a removable core allowing you to add sealant without removing the tire. This removable valve core will make inflating easier by increasing the air flow into the tire. Removing the valve core also allows for cleaning or easy replacement
Stan's Tire & Rim Sealant can also be used to seal punctures and slow leaks that occur in most tubeless tires. As a result, your tubeless tires will hold air for longer periods of time.
Other Information
If you are interested in rotating weight (and who's not!!) you can lose anywhere from 100 grams up to 400 grams of rotating weight per wheel set
This System does not require any modifications to your existing wheel set. If you are not satisfied with it, all you do is remove the rim strip, and put your old heavy tube back in and go riding
This System requires very little mechanical ability to install
It does not use any glue and you can change a flat the same way you do now.

Lower Air Pressure, Better Traction and Ride
Stan's Tire and Rim Sealant will usually last from three weeks up to three months. At that time you simply add more. (Time will vary due to different tire characteristics). It leaves no mess in your tire.
Stan's Tire and Rim Sealant can also be used in tubeless tires for puncture resistance and STOPS leaks
Once you seal your tires they will not lose air pressure
What happens if I get a flat on the Trail? -- Do like most riders, and bum a tube from one of your pals because they always carry one. Heck, use their pump too!! Stan's Tire & Rim Sealant does not use any glue, so you can change a flat the same way you do now.
Manufacturer's Code: 850.ST0028