Shimano Ultegra 6770 Di2 derailleur to battery internal Cable Set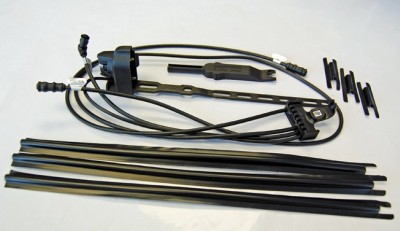 Shimano Ultegra 6770 Di2 derailleur to battery internal Cable Set
$229.21
Add to Cart
shopping_cart
To ensure that the signal goes from the shifter to the derailleurs, the reliability of the electric cable has been proven by repeated field tests in various riding conditions, including extreme temperatures, rain, mud, and cobble stone roads.
The removal of traditional mechanical cables in favour of electrical wires not only eliminates poor shifting caused by contaminates, corrosion and stretching, but provides effortless gear shifts.
Ultegra Di2 requires 2 cables: a handlebar cable set to connect the shifters to a battery indicator junction box or FlightDeck, and the other to connect the handlebar cable to the battery and derailleurs.
This battery to derailleur cable is available for internal or external routing in different lengths allowing for various frame sizes
Internal cable sets are for bikes specifically designed for Di2 to ensure clean lines and minimal rider interference
Reliable and secure water resistant connectors
Internal cables are available in one length, there is no need (or facility) to cut these cables.
Manufacturer's Code: SMJC41L1