Veloflex Corsa 25c Clincher Folding Tyre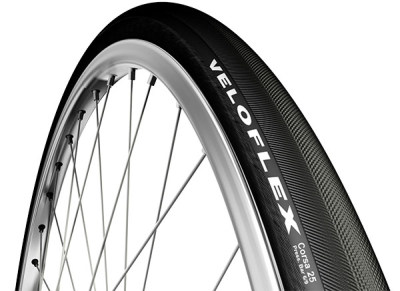 Veloflex Corsa 25c Clincher Folding Tyre
Price:
RRP: €45.00
Save: 22%
700x25C
In Stock
2-3 Days Delivery Time
€35.00
All-purpose open tubular (Clincher with Veloflex technology) that will give you more than you can expect from a clincher tyre. Built with the same 320 TPI casing of our tubular tyres for low rolling resistance and incredibly supple ride feelings. Suited for training and racing for everyone that wants the excellent characteristics of a tubular and the easiness of mounting of a clincher tyre. The special tread will grant outstanding grip and cornering stability in all weather conditions. Corsa models come with black coloured sidewalls for a more aggressive look and four colours of choice for the rubber tread.
Specification:
Use: Training - Racing
Size: 700 x 25c (25 - 622)
Weight: 205 gr.
TPI: 320 Threads Per Inch (120/cm)
Pressure: 6/9 bar (85/130 psi)
Protection Belt: Antipuncture layer
Casing: Compressed Pes/Co corespun
Beads: KEVLAR® inextensible yarn
Rubber tread: Natural rubber exclusive compound
Mileage: Front 6.000 km - Rear 3.000 km
Veloflex Open Tubular - the product that push you to the next level.
Our clincher tyres are made with the same productive process and high-quality materials we use for our tubulars, that's the reason why we call them Open Tubulars.
Manufacturer's Code: VELOFLEX011