Look MTB 15mm Aluminium A-Stem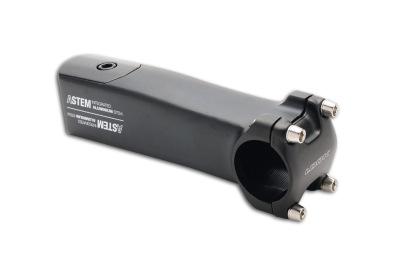 Look MTB 15mm Aluminium A-Stem
Black Gloss - 80 mm
In Stock
2-3 Days Delivery Time
$169.14
Black Gloss - 90 mm
$169.14
Black Gloss - 100 mm
$169.14
Black Gloss - 110 mm
$169.14
Black Gloss - 120 mm
$169.14
Black Matt - 90 mm
$169.14
Black Matt - 110 mm
In Stock
2-3 Days Delivery Time
$169.14
Key features:
DIRECT DRIVE integrated stem
Better steering accuracy
Increased head tube rigidity
Forged 7050 aluminium composition 3D
Reversible
Technical specification:
STRUCTURE: FORGED ALUMINIUM 3D AND MACHINED
LENGTHS AVAILABLE: 80MM - 90 MM - 100 MM - 110 MM -120 MM
POSSIBLE ANGLES: + OR -15 MM [LENGTHS 80 / 90 / 100 /110 / 120 MM]
COLOURS: BLACK
WEIGHT: 180 GRAMS
GUARANTEE: 1 YEAR
Technology:
DIRECT DRIVE CONCEPT INTEGRATED STEM: The Direct Drive concept corresponds to the optimisation of all of the steering station's parameters in the aim of bringing maximal rigidity, reliability and safety to reach a maximum performance level. We arrive at this result through the use of a short and conical head tube 1.5" below and 11/8" on top by suppressing the piling up of spacers.
BETTER STEERING ACCURACY: Owing to a shorter pivot, over dimensioned rolling bearings and increased stem rigidity, the whole steering station is more rigid. It is thus more accurate and the sensation obtained at the handlebars is added trust which allows increasing performances.
HEIGHT AND LENGTH ADUSTMENT: Available in 7 different versions (5 lengths and 2 angles), the A-Stem permits accurate adjustment of its bar height whilst retaining perfect aesthetic integration and optimum cockpit rigidity by avoiding the stack of spacers under the stem.
RIGIDITY: Owing to a composition of upper range aluminium 7050, a 3D forged construction and machining, the A-STEM presents great rigidity that contributes to the bike's overall performance.
Manufacturer's Code: 00007655, 00007656, 00007657, 00007658, 00007659, 00004713, ACRT/0292711