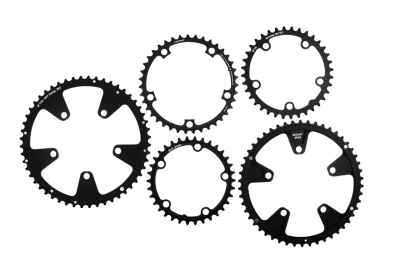 110 Compact - 36 for 50/52
$75.50
Add to Cart
shopping_cart
110 Compact - 50 for 34
$150.99
Add to Cart
shopping_cart
110 Compact - 50 for 36
In Stock
2-3 Days Delivery Time
$150.99
110 Compact - 52 for 36
$150.99
Add to Cart
shopping_cart
130 Double - 34 for 50
In Stock
2-3 Days Delivery Time
$75.50
130 Double - 39 for 52/53
$75.50
Add to Cart
shopping_cart
130 Double - 52 for 39
$150.99
Add to Cart
shopping_cart
130 Double - 53 for 39
In Stock
2-3 Days Delivery Time
$150.99
130 Double - 54 for 42
$150.99
Add to Cart
shopping_cart
130 Double - 55 for 44
$150.99
Add to Cart
shopping_cart
130 Double - 56 for 46
$150.99
Add to Cart
shopping_cart
Key Features
10 and 11 speed compatible chainrings
Design and rigidity adapted to ZED 3 cranksets
Ultra light chainrings
Cold forged chainrings for high precision gear changes
Working in chainring pairs to ensure ultra fast speed changes
Structure: CNC Machined Aluminium
102 g In 53 TOOTH / 38 g In 39 TEETH
10 AND 11 SPEED COMPATIBLE CHAINRINGS
The chainrings are specially machined to be used with 10 and 11 speed chains.
MATCHING DESIGN AND RIGIDITY
The design of the large chainring is simplified because it almost completely disappears behind the crankset and is optimised to offer greater rigidity. This is also the reason why they are machined in 5 mm thick aluminium plates instead of the usual 4 mm.
CNC MACHINED CHAINRINGS
The manufacturing technology is CNC machining. This allows greater accuracy in chain up and down shifting ramps providing silent operation and quick, silent gear changes.
CHAINRING PAIRS
Chainrings are sold singly but are made to work as pairs. In fact the machining on the large rings differs and is optimised to work with a very specific small ring. By following this recommendation you will be sure of optimum operation. The following teeth numbers are available:
53 for 39
52 for 39
52 for 36
50 for 36
50 for 34
39 for 52/53
36 for 50/52
34 for 50
Manufacturer's Code: 00011671, 00011666, 00012522, 00011667, 00011670, 00011672, 00011668, 00011669, 00015032, 00015033, 00015034
Barcodes: 3611720089281, 3611720089236, 3611720095817, 3611720089243, 3611720089274, 3611720089298, 3611720089250, 3611720089267, 3611720120151, 3611720120168, 3611720120175