Triathlon Wetsuit Rental Program
Triathlon Wetsuit Rental Program will give you the opportunity to get into a triathlon wetsuit without breaking the bank.
Perfect for the beginner triathlete or the seasoned swimmer that is required to wear a wetsuit for an event.
Wetsuit Rental is available for 5 days (sleeveless version) or for the season (sleeved).
€50 for 5 Days Sleeveless Wetsuit Rental
If you require the wetsuit for one event this option is the best.
5 days is just enough time to allow you to collect and return the suit & get familiar with safe and quick way to put it on and take it off.
We have Zoot Z Force 1.0 SL Sleeveless Wetsuit available in all sizes in Mens and Womens versions
€50 rental charge for 5 days
Please return suit dry and clean
Deposit of €149 taken
If you like the suit - just keep it.
€175 Season Full Sleeve Wetsuit Rental
If you require the wetsuit for full season this option is the best.
You signed-in for more than 1 triahtlon event this season or want to train in the wetsuit in open water, than this option is the best.
We have Zoot Z Force 1.0 Full Sleeve Wetsuit available in all sizes in Mens and Womens versions
€175 rental charge for season ending in September
Please return suit dry and clean
Deposit of €50 taken
If you like the suit - just keep it.
Why do you need a Wetsuit?

Floatation - Additional buoyancy keeps you on top of the water and in an optimal swimming position making for a much easier swim.


Warmth - Neoprene helps trap some of your body heat so you expend less energy keeping up your core body temperature.


Speed - Less energy expended swimming and staying warm leaves more energy available for forward propulsion.

Wetsuit Fitting Information
Putting on Wetsuit:
Use a mat when fitting the suit or making a transition to prevent sand or grit coming between you and the suit.
Remove all clothing down to underwear/swimwear. It is helpful to leave your socks on while fitting.
Your skin should be dry.
Remove watches/jewellery. Check fingernails are trimmed.
Use thumbs and fore fingers to pull --not your nails.
Make sure zip goes to the back
Take selected suit pull on one leg
Pull up suit as far to above your knee. (End of suit should be about 4" above the ankle).
Pull on second leg.
Using both hands bring the suit up to your midriff, take care to fit the suit well in to the crouch.
Stretch your legs to make sure the fit is good.
Bring the suit futher up to your chest.
Put one arm into the suit. Suit should end at your wrist. Pull the arm as far as you can into your armpit.
Do the same for the second arm.
Ask a Friend to zip you up.
If the suit fits well it will feel tight: there should be no gather or pockets for water to accumulate and make the suit heavy.
Think of the suit as a second skin.
If the suit is too tight: you will have difficulty breathing, or you will feel that you are being pulled forward. Or if when you open the suit It springs open very fast.
Before you swim:
Go into the water and Let water down the front and back of the suit.
Come out of the water and push down the water using your hands.
The water will squeeze out by your ankles.
You can make minor adjustment to make the suit fit better.
You will find the suit now sucks to you and really feels like a second skin also it will be more flexible.
Removing Wetsuit:
Simply roll it off inside out
As you leave the water start removing the top half of your suit by the time you reach your bike you will be down to Your waist.
Gradually Take the suit off your legs pull down half one leg first then the other leg then half again on the first leg and so on.
After the race:
Rinse suit out in fresh water hang up in say bathroom to dry naturally for 5-6 hours
Keep out of direct sunlight. Do not roll or dump it in a pile.
Notes:
Do not use petroleum-based products on the suit.
Do not use in a Swimming pool.
Wetsuit Size Chart
If you are not sure about your size - we will be happy to assist you during your visit in our store.
For online inquires - please see Wetsuit Size Chart Below: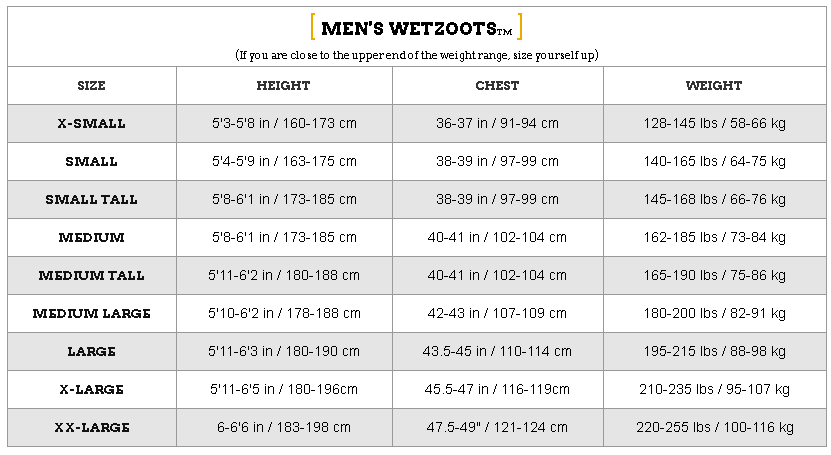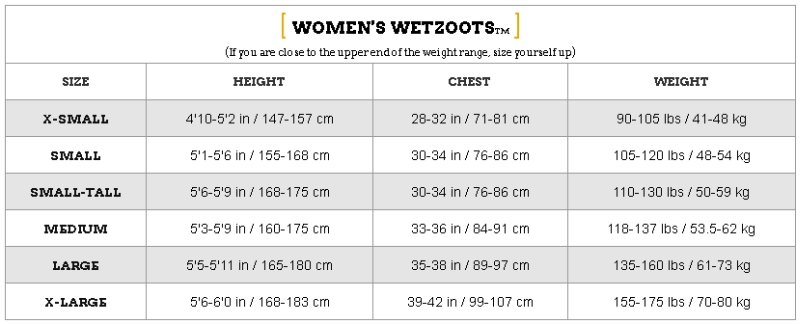 Contact us
For questions about Sizes Availability and Booking please mail ussales@cyclesuperstore.ie
or call on 01 4632270
About ZOOT Force 1.0 Wetsuit
Named "The Top 10 Triathlon Essentials for Beginners" by Outside Magazine, the Z Force 1.0 wetsuit is the perfect model for the newbie triathlete with an extremely attractive price-to-performance ratio.
The Z Force 1.0 is constructed with Yamomoto C38 and is coated with hydrodynamic Super Composite Skin (SCS). The SCS coating improves swimming speeds by reducing drag, allowing the suit to glide through water more efficiently. The Z Force 1.0 has the flexibility and buoyant feel of a high-end suit without the price tag.
Fabric: Yamamoto C38
Thickness: 4/3/5 MM
SCS hydrodynamic finish to help you glide through the water
Aqualift in the rear of the suit, 5mm neoprene to make you buoyant and get you in the correct position
DORSALflex zipper
OKD - Optimal Kick Design is Zoot's proprietary kick design, helps your legs stay in the natural body position to kick - save your legs for the bike and run
Gender-specific ergonomically shaped panels