High5 ZERO Electrolyte Tablets Energy Drink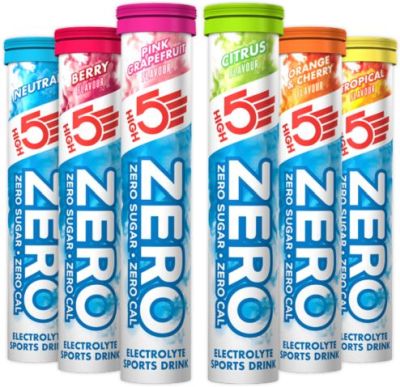 High5 ZERO Electrolyte Tablets Energy Drink
Berry
€7.00
Add to Cart
shopping_cart
Cherry/Orange
€7.00
Add to Cart
shopping_cart
Citrus
€7.00
Add to Cart
shopping_cart
Natural
€7.00
Add to Cart
shopping_cart
Pink Grapefruit
In Stock
2-3 Days Delivery Time
€7.00
Tropical Fruit
In Stock
2-3 Days Delivery Time
€7.00
Blackcurrant
In Stock
2-3 Days Delivery Time
€7.00
Strawberry/Kiwi
In Stock
2-3 Days Delivery Time
€7.00
Mango
In Stock
2-3 Days Delivery Time
€7.00
Refreshing sugar free electrolyte drink with zero calories to stay hydrated. 20 tablets per tube. Suitable for a wide range of sporting activities
ZERO is a refreshing sugar free electrolyte drink with zero calories that makes it simple and easy to stay hydrated. When you sweat, you lose vital minerals so it's important that they are replenished. With key electrolytes, sodium and magnesium, ZERO gives you what water can't.
This scientific formula includes Vitamin C to support a healthy immune system, protect cells from oxidative stress and reduce tiredness and fatigue. The magnesium in ZERO contributes to electrolyte balance, whilst also supporting muscle protein synthesis.
Features
Light & refreshing electrolyte drink with natural fruit flavours
Sugar free with zero calories
Reduces tiredness and fatigue
Contains 20 tablets per tube
Suitable for a wide range of sporting activities
Suitable for vegetarians and vegans
ZERO is designed to be taken BEFORE, DURING and AFTER exercise and in hot weather.
What's ZERO Neutral?
ZERO Neutral has all the benefits of the flavoured ZERO, it is just flavourless. Some people prefer ZERO Neutral over the flavour varieties so they can add it to their own already flavoured drinks like squash, green tea or a sports drink.
Batch Tested Products
As part of our Drugs Free policy, we provide products that have been batch tested. If you require products from a batch that has been tested for substances on the WADA Prohibited List, then please select the "Batch Tested" option in the flavours menu. This will be shipped with a certificate from our accredited lab. Please note that we do not use banned ingredients and have never had a failed test.
Manufacturer's Code: HI5ZEROCT, HI5ZEROMANGO, HI5ZERONT, HI5ZEROPGT, HI5ZEROTR, HI5ZEROBC, HI5ZEROSBK, HI5ZEROBR, HI5ZEROCOR
Barcodes: 50551866, 5027492003727, 50598434, 50572915, 50551828, 5027492005721, 5027492005400, 50053124, 50053018