High5 Energy Drink Caffeine Hit 12x47g Box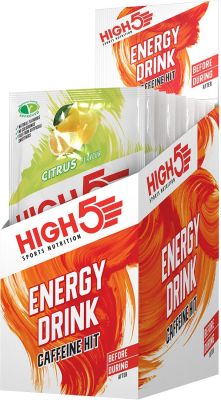 High5 Energy Drink Caffeine Hit 12x47g Box
Citrus
$18.97
Add to Cart
shopping_cart
Advanced 2:1 Fructose sports drink with 140mg caffeine per 500ml.
In the search for a boost in performance, caffeine can help deliver the extra kick you need. Caffeine stimulates the brain, lowering your perception of effort and helping you train harder and longer. It contributes to clearer thinking and greater concentration. Energy Drink Caffeine Hit is a variation of our Energy Drink that has been formulated with a high dose of caffeine to help you increase your performance during exercise.
Energy Drink Caffeine Hit is intended as a one-time caffeine dose. When taking part in tough sports events, caffeine contributes to an increase in endurance performance and capacity. That means you can go further than before!
Features
Contains 140mg caffeine per 500ml serving
Consume up to 90g of carbohydrate per hour
Maintains your endurance performance
Helps maintain hydration during exercise
Light tasting and refreshing
Suitable for vegetarians and vegans
Energy Drink Caffeine Hit is designed to be taken BEFORE or DURING exercise
Batch Tested Products
As part of our Drugs Free policy, we provide products that have been batch tested. If you require products from a batch that has been tested for substances on the WADA Prohibited List, then please select the "Batch Tested" option in the flavours menu. This will be shipped with a certificate from our accredited lab. Please note that we do not use banned ingredients and have never had a failed test.
Manufacturer's Code: HI5EDCFH564CT-BOX