Continental Contact Speed Commuting Wire Tyre
Continental Contact Speed Commuting Wire Tyre
Price:
RRP: $41.64
Save: 10%
700x28C
In Stock
2-3 Days Delivery Time
$37.48

The perfect choice for the city speedsters, single-speed bikes and fitness bikes.
With its double layer of fabric breaker, the light-weight design and its roughened slick tread it shines especially on tarmac.
Features
This super fast looking city slicker turns any bike into a racer, helping bike messengers meet those tight deadlines or fitness riders who require a faster tyre
Puncture protection and reliability is taken care of thanks to Continental's renowned hard wearing tread compound and two SafetySystem anti puncture layers beneath the tread
An improved 180 tpi (threads per inch) nylon casing increases speed and comfort. This is because the finer casing material deforms more quickly around imperfections in the road surface compared to a lower tpi casing. This feature also improves puncture resistance
The Contact Speed also features a 'skinwall' sidewall. Most city/trekking tyres use a 'gumwall' meaning lots of rubber in the sidewall to improve sidewall puncture resistance. A skinwall sidewall is much faster than a gumwall but just a little forward thinking is needed to avoid scuffing kerbs and to always maintain the minimum recommended tyre pressure
'Micro-diamond' tread pattern rolls fast yet grips on loose debris covering road surfaces like grit, gravel or mud
Reflective Sidewall
Able to be used with dynamo lights
Constructed from 3 plies, totalling 180 tpi
Weight: 500 grams
Technology
eBike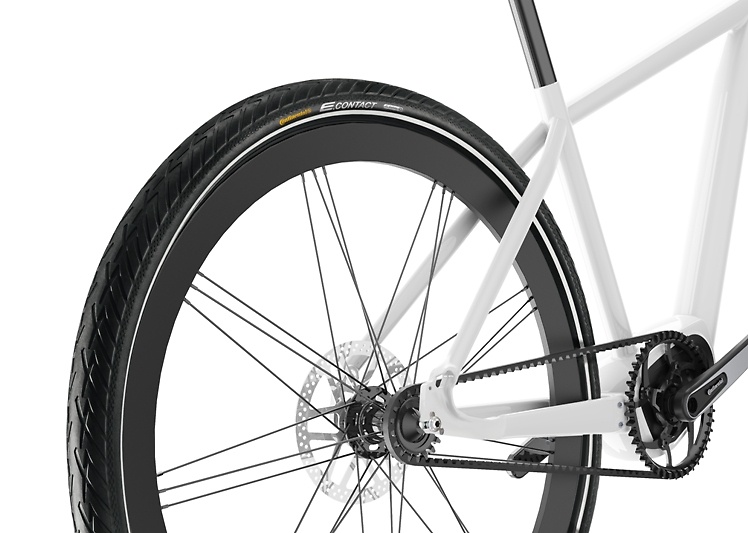 For our E-Bike tire we fall back on over 100 years' experience with moped and motorcycle tires. All of our city/trekking tires are rated to a standard speed of at least 25 km/h. Those tires marked e50 are also certified for S-Pedelecs. With their high quality structure, puncture protection is high and the rolling resistance is low offering protection from premature wear brought about by the additional driving force.
Manufacturer's Code: TYC01402, TYC01406, TYC01412, TYC01416