Continental Contact Urban Wire Tyre
Continental Contact Urban Wire Tyre
Price:
RRP: $48.21
Save: 10%
700x28c
In Stock
2-3 Days Delivery Time
$43.39
Premium mobility for design enthusiasts.
Urban profile packed with the latest technology. The perfect symbiosis between light-rolling and puncture protection reflected in this specialized tire designed for the City Jungle. Faster? Not a problem with approval for E-Bikes up to 50km/h!
Features
Fast rolling with improved comfort and superb puncture protection due to our new Safety Pro casing, giving a safety level of 6, just one point below the resolute CONTACT Plus series, but giving faster rolling performance
The new SafetyPro breaker designed from Nylon textile. Cross-woven textile fibre netting that is simultaneously robust and flexible. Maximum puncture protection with minimal added weight. The risks of punctures resulting from glass or sharp stones are lowered. SafetyPro sits above the lightweight SafetySystem (level 4) and rubber EXTRA puncture belt (level 5) in the Continental safety (puncture protection grading) table
The tyre is of course compatible with E.Bikes and helps improve battery life
The jack of all trades tyre from fast commuting to a trusted companion on the long globetrotting tour
Reflective sidewall
Technology
PureGrip Compound
Based on activated silica compounds, this technology was originally intended as an performance level compound, but after intensive development at our Korbach Research and Development Department Facility, an advanced new compound with outstanding grip and cross-country properties was developed. This new rubber mix, given the self explanatory name "PureGrip", is ranked just behind our BlackChili Compound and is being used in our performance products both in the road and mountain bike sectors. Whilst providing great grip, it is also long lasting and highly durable – both characteristics of Continental tires, which are exclusively manufactured in the factory in Hefei (Asia).
eBike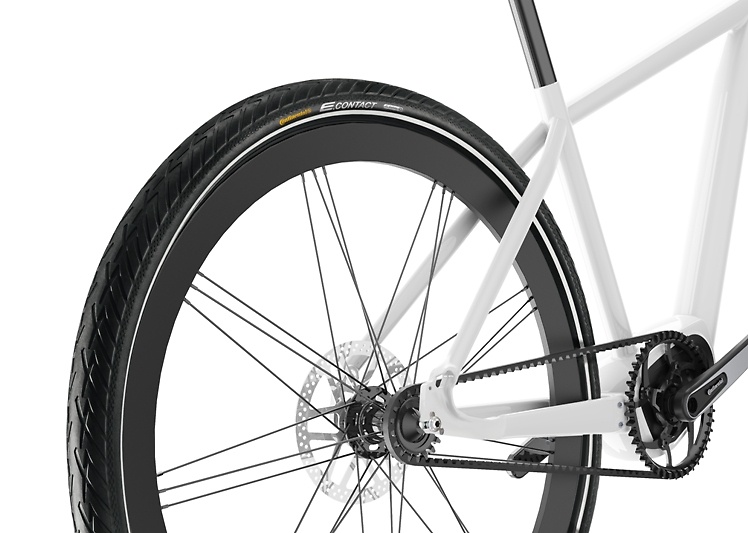 For our E-Bike tire we fall back on over 100 years' experience with moped and motorcycle tires. All of our city/trekking tires are rated to a standard speed of at least 25 km/h. Those tires marked e50 are also certified for S-Pedelecs. With their high quality structure, puncture protection is high and the rolling resistance is low offering protection from premature wear brought about by the additional driving force.
Manufacturer's Code: TYC50355, TYC50368, TYC50369, TYC50370, TYC50371, TYC5035, TYC50351, TYC50349, TYC50372