PowerBar Magnesium Liquide Ampoule 25ml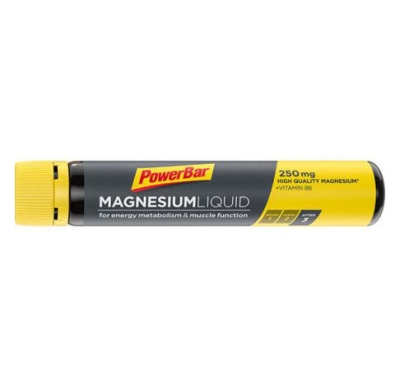 PowerBar Magnesium Liquide Ampoule 25ml
In Stock
2-3 Days Delivery Time
$1.69
Magnesium is important to support your energy metabolism and normal muscle function. Further, it supports the reduction of tiredness and fatigue. Magnesium is one of the 5 electrolytes that your body loses most while sweating. As sportsman, you should assure a sufficient supply of Magnesium. One ampoule of PowerBar MAGNESIUM liquid serves you with 250 mg high quality magnesium plus vitamin B6.
Features
Magnesium is important for a normal energy metabolism and a normal muscle function
Vitamin B6 contributes to normal protein metabolism
Ingredients
Water, orange juice (from concentrate), magnesium citrate, acid (lactic acid), fructose, preservative (potassium sorbate), sweeteners (acesulfame K, cyclamates, saccharins), flavouring, vitamin B6.
Nutritional Information
Nutrition information per ampoule (25 ml)
Vitamine B6: 0,60 mg (43%*)
Magnesium: 250 mg (67%*)
Suggested Use
Drink one ampoule before sport. 1 ampoule per day.
Shake ampoule well before use. Mix the content of the ampoule with a drink of your choice.
This food supplement should not be used as a substitute for a varied diet. Do not exceed the recommended daily intake. Keep out of reach of young children.
Manufacturer's Code: P24460017