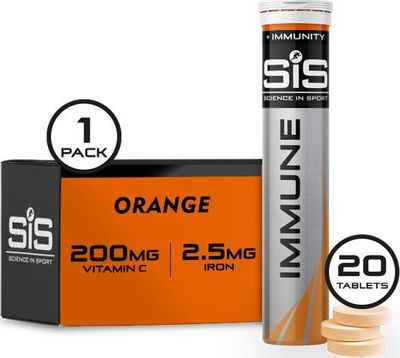 Orange
$8.75
Add to Cart
shopping_cart
SiS Immune is designed to support and maintain immune function during and after exercise. As an effervescent tablet that readily dissolves in plain water, it represents a highly practical approach to support your immune system after exercise.
Vitamin C (200mg) and Iron (2.5mg) are known to contribute to the maintenance of the normal function of the immune system during and after intense physical exercise in addition to your RDA.
Features
Designed to support and maintain immune function
9 calories per serving
Consume up to 1 tablet per day in addition to a balanced diet and a healthy lifestyle.
Ingredients
Citiric Acid, Acidity Regulator (Sodium Hydrogen Carbonate, Sodium Carbonate), Sorbitol, Vitamin C (4.95%), Inulin, Natural Flavout, Starch, Tricalcium Phosphate, Sweetener (Sucralose), Maltodextrin, Natural Colour, Iron Sulphate (0.18%), Vitamin B2 (Riboflavin).
Manufacturer's Code: FS00109