Oxford Aquatex Single Bike Cover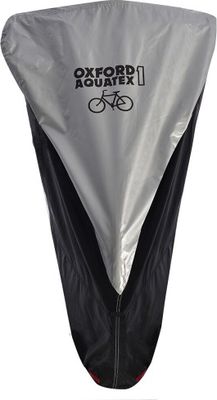 Oxford Aquatex Single Bike Cover
Price:
RRP: $31.58
Save: 24%
In Stock
2-3 Days Delivery Time
$23.97
The Oxford Aquatex bicycle cover is a lightweight bike cover for use indoors and outdoors. As you would expect from the worlds best-selling cycle cover it comes packed with useful features and built to last.
Designed for indoor/outdoor use it offers protection against rain and dust. Local police initiatives have shown that bike covers can be a useful anti-theft device - if a thief can't see what kind of bicycle is underneath they are less likely to target it. Combine with one of our award winning chain locks to add an additional layer of defence against any would-be bike thief.
Features
Double-stitched 100 Denier polyester for strength and durability
Complete exterior and interior protection. Can be used both as an outdoor rain cover and an indoor dust cover 
An elasticated base holds cover in place for a snug fit
Comes with a zipped carrier, to store away compactly when not in use
Strong but lightweight material is UV resistant, so does not degrade in sunlight
Double PU coating for optimal waterproofing
Storage case provided
Available in three sizes. Sized for 1, 2 and 3 bikes
Single bike size 200cm X 80cm X 110cm
Manufacturer's Code: COV004